A new study shows that zoos aren't just a fun place for kids to visit; they are also a teaching opportunity. Interviewing more than 3,000 children between 7 and 14, the largest study of its kind found that just over half of the kids (53 percent) showed improvement in at least one of three areas: conservation-related knowledge, concern for endangered species, or desire to participate in conservation efforts.
Interviewed before and after visiting the Zoological Society of London's (ZSL) London Zoo, children also showed that the experience changed their outlook on zoos in general. Ranking the concepts they associated with zoos, 'learning' jumped from 11th place before the zoo visit to 3rd place after visiting the London Zoo in surveys. In addition, 'habitat' moved from 13th to 4th place.
"Globally, more than a tenth of the world's population passes through zoos annually so the potential is there to reach a huge audience," says Eric Jensen with the University of Warwick, who produced the report. "In recent years zoos have come under criticism for failing to demonstrate educational impact with certain lobbying groups arguing that it's cruel to keep animals captive. But zoos have been changing for years now to offer more educational and conservation information; 'behind the scenes' access for visitors; learning about habitat conservation work—all of which culminate in a better engagement experience for the visitor."
The study also showed that zoos have the potential to instill conservation ethics in children: 39 percent of kids who before their visited has stated that they were not concerned about endangered species changed their mind afterwards.
It should be noted that the London Zoo is generally considered among the best in Britain, and many other zoos may not live up to its focus on education and conservation. It is also the world's oldest zoo established for scientific purpose.
Related articles
Pictures: Belize Zoo devastated by hurricane
(11/15/2010) The world famous Belize Zoo is closed until further notice after suffering a direct hit from Hurricane Richard, which leveled trees and inflicted heavy damage on wire fences. The zoo has send out an urgent plea for building materials and funds to help with recovery. None of the facility's animals or staff were injured.
Guilty verdict over euthanizing tigers in Germany touches off debate about role of zoos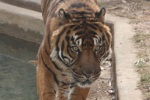 (08/11/2010) In June a German court handed down a guilty verdict to the Magdeburg Zoo director, Kai Perret, and three employees for euthanizing three tiger cubs in 2008. The zoo decided to kill the cubs when it was discovered that the cubs' father was not a 100 percent Siberian tiger (i.e. he was a mix of two different subspecies). This is generally standard practice at many zoos around the world as animals that are not 'genetically pure' are considered useless for conservation efforts. However, the court found the workers guilt of breaking animal rights laws, finding that there was "no sufficient reasons to kill less valuable, but totally healthy animals."
Bronx Zoo puts 'extinct' frogs on display
(02/02/2010) The Bronx Zoo has a put a most unusual frog on display: the Kihansi spray toad. For one thing, the Kihansi spray toad survived on only 5 acres in the Kihansi gorge in Tanzania, adapted to the areas' unique and constant mist from the gorge and a waterfall. For another, female Kihansi spray toads give birth to live young, instead of laying eggs. Finally, the Kihansi spray toad is extinct—at least in the wild.