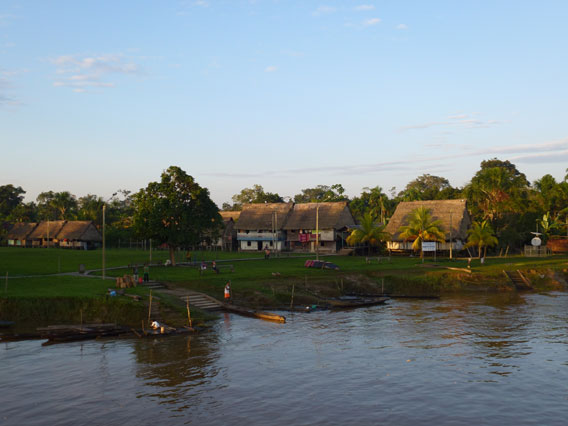 Back in the 1970's a petrol company (Pluspetrol) set up petroleum operations near the Rio Corrientes (in the Peruvian Amazon) that were very close to some tribal villages; the machinery was not built very well and the villages suffered 2 large oil spills that contaminated the water, causing the people to suffer poisoning and serious health problems.
An organization called FECONACO (Federation of Native Communities of Rio Corrientes) was formed to report to the government about oil spills and other environmental problems in the region.  The organization was made up of native people who started working to stop the damage Pluspetrol was causing.
After the spills, and additional waste dumping by Pluspetrol, the natives of FECONACO banded together and fought to stop the company's operations.
Now the organization has grown and is made up of specially-trained environmental monitors who are studying the pollution caused by Pluspetrol.
Other tribes in jungle communities have also been banding together to conserve and manage their natural resources.
A group called Curuinsi was formed of students instructed by elders of native communities teaching about Peruvian culture, jungle knowledge, herbal medicines, and other sacred and cultural traditions and customs.
Curuinsi is working to spread the knowledge of native culture to native young people as well as other people (like foreigners) who are interested in learning.  In addition to teaching people about traditional ways, they are working to record the information and spread it through the internet to make it accessible for others.
FECONACO and Curuinsi are two examples of efforts made by native Peruvian people stop the negative influences of Western development on their land.
Local people are coming together to try to stop all the problems facing the Peruvian jungle (deforestation, pollution, etc.).
Each community has formed their own special way of dealing with issues and responding to threats to their habitat.
These communities need the help and support of the government to stop loggers and developers from damaging their jungle home.
Want to learn more?  Visit: http://news.mongabay.com/2012/0326-leflufy_indigenousperu_commentary.html