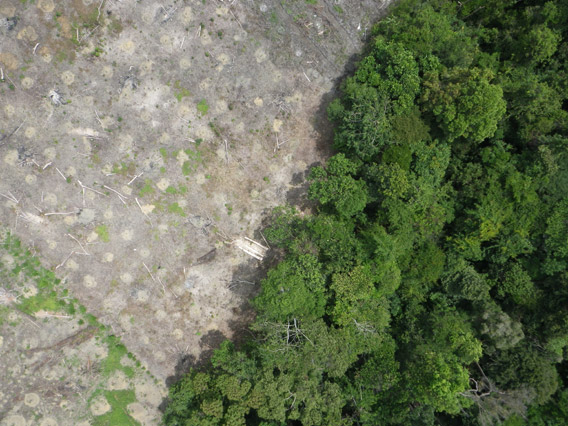 Aerial photograph from the drone showing forest clearing. Courtesy of Lian Pin Koh.
A pair of scientists have modified a model airplane with a camera and other sensors so it can be used to explore rainforests.
The scientists tested their "conservation drone" on Indonesia's Sumatra island.
So far they have used the remote-controlled aircraft to map deforestation, count orangutans and other endangered species, and get a bird's eye view of hard-to-access forest areas.
The drone's flights can be plotted using Google Maps. A typical flight lasts 25 minutes and can cover about 50 football fields.
"The main goal of this project is to develop low-cost Unmanned Aerial Vehicles (UAVs) that every conservation biologist in the tropics can use for surveying forests and biodiversity," said Lian Pin Koh, the scientist who came up with the idea. "Drones are already being used for many purposes including the military, agriculture, and even in Hollywood for filming. But they are still not commonly used for conservation purposes."
Koh said the concept of the drone came to him after an exhausting day hiking through the forest.
He hopes the drone could have other uses including tracking deforestation, law enforcement, and monitoring forest fires.
"My dream is that in the future, every field ecologist will have a drone as part of their toolkit, since it doesn't cost more than a good pair of binoculars!" said Koh.




Koh and Wich with their drone.
"The idea for developing this low-cost drone came to me during one of my field trips to Borneo in 2004," Koh told mongabay.com. "A very exhausting day of fieldwork made me wish for a remote control aircraft that I could send into the forest to do the work for me so that I could take a break the next day."

Learn more:
Model airplane used to monitor rainforests February 23, 2012