On May 5th 2012, 350.org (a climate change awareness organization) organized a planet-wide movement to show people (government, media, the public) how climate change is causing patterns of extreme weather conditions around the world.
1000 individual events were held around the world in more than half the Earth's countries to showcase the issue.
Supporters of 350.org are trying to show the citizens of the Earth how much harm we are doing to the planet.
Patterns of extreme weather are increasing around the globe.  Countries are experiencing the worst floods, droughts, and storms in hundreds of years.
Severe weather events around the globe are causing death, destruction, and billions of dollars' worth of damage.
Since the 20th century, the temperature of the Earth has increased.  This is caused by the release of greenhouse gases into the atmosphere which trap heat and warm the Earth.
Major changes in the Earth's landscape include: melting of sea ice, increase in sea level, and melting of glaciers.
Major changes in climate patterns include: extremely heavy rainfall (causing flooding), extreme drought (causing wildland fires), increased violent storms, and increasing temperatures.
Extreme weather is causing devastation to human populations and needs to be halted to save the Earth!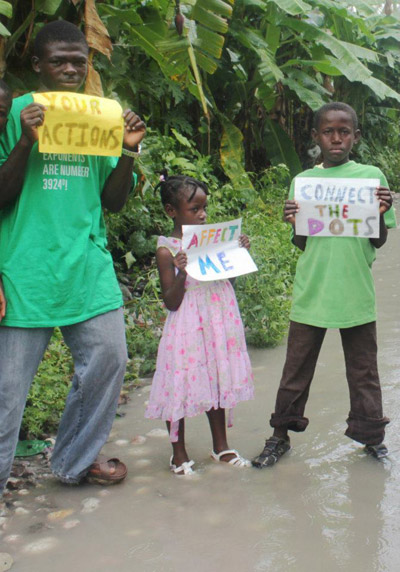 Youth in Haiti participating in 350.orgs Connect the Dots Global Climate Change Event
Read more at: Thousands worldwide to "connect the dots" between climate change and extreme weather this weekend