A critically endangered, large wild goat named the markhor is the national animal of Pakistan.  In good news from the Wildlife Conservation Society (WCS), the population of markhors has been found to be climbing over the past few years.
In 1991, these animals reached an all time low of between 40 and 50 animals.
Most recent surveys have found a population estimated around 300, suggesting a total number of markhors to be around 1,500 individuals.
The iconic corkscrew horns of the markhor can reach an impressive length of up to 5 feet and are used by males to win females during breeding seasons.
The markhor can be found in scrub forests made of oaks, pines, and junipers.  In these forests they like to eat the grasses, leaves, herbs, fruit, and flowers.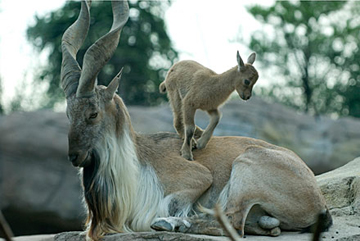 The markhors have been threatened by illegal hunting, habitat destruction, and competition with domestic goats and sheep.
The low population not only affected the markhors themselves, but also carnivorous species such as the wolf and snow leopard, as they are a primary food source for them.
The 'Markhor Conservancy' is a conservation project that aids villages in sharing resources in order to protect the markhors.
The WCS also plans to help in the protection of other wildlife in this region such as the snow leopard and the Asiatic black bear.
Want to learn more?  Read the full story: Conservation success: markhor population climbing