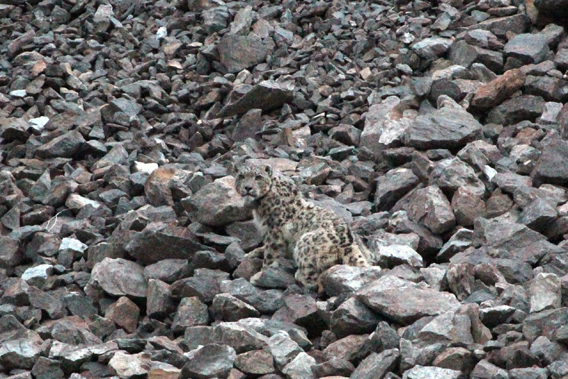 Scientists managed to capture and collar two snow leopards for the first time, in Afghanistan.
Snow leopards live in mountainous regions and live at high altitudes within ranges such as the Himalayas
Listed as Endangered by the International Union for Conservation of Nature (IUCN); they are subject to many threats including poaching, loss of prey, human intrusion of their habitat and are often killed because they eat livestock.
Scientists have now identified climate change as another potential threat to snow leopard survival.
It is predicted that as the climate warms, the treeline will move and be able to survive higher up the mountain; this is bad news for the leopards as they don't like forested areas and they may be driven further up the mountains.
Snow leopards also don't like heights that exceed 4,800 metres (16,000 feet) so their habitat is almost going to be 'squashed' into a smaller area.
Scientists have now captured and collared the 2 snow leopards in an attempt to understand the impacts of climate change on them.
"The information garnered from the tagging will assist researchers as they learn more about the range, behavior, movements, and habitat used by snow leopards," Peter Zahler, WCS Deputy Director of Asia Programs, said in a press release.
Researchers also state that if snow leopard habitat was to shrink, there would be other problems too; leopards and humans will come into contact more often leading to even more poaching and killing related to livestock taking.
Experts fear many alpine (mountain) species will suffer as a result of climate change.
Want to learn more?  Read the full story: First snow leopards collared in Afghanistan as species faces rising threat from climate change