Asian elephant family at the Chester Zoo. Photo courtesy of: Maggie Esson.
You may think children in urban, northern UK have little in common with those in rural Assam, India, but educational connections are possible you just have to know where to look. In this case, an innovative education initiative at Chester Zoo has employed its five ton stars—the Asian elephants—to teach British children about life in faraway India.
"In both locations [northern England and Assam] we have active education programs in schools with children living in difficult situations. Parallels can be drawn between both sets of children, and for our children in Chester Zoo, this provided the opportunity for them to gain insight into another way of life and to empathize with children living in another country," explains Maggie Esson, the Education Programs Manager at Chester Zoo, in an interview with mongabay.com
With zoo-provided materials, British teachers taught their students about everyday life in Assam, including human-elephant conflict and the role of elephants in Indian religious belief. The zoo took lessons from it's own conservation and community works in Assam. The educational program culminated with a visit to the zoo and an in-person interview with a Chester Zoo elephant-keeper.
Esson says the program was hugely successful with parents and teachers reporting that students worked-hard, were engaged and even inspired. One surprise was that the students viewed the elephant zoo keepers "as role models and this type of social capital was an unexpected but welcome bonus from the project."
Esson further notes that similar programs could be easily replicated in other zoos.
Maggie Esson will be presenting on her work at Chester Zoo at the 2013 Zoos and Aquariums: Committing to Conservation (ZACC) conference on Friday, July 12th in Des Moines, Iowa.
AN INTERVIEW WITH MAGGIE ESSON
Mongabay: What's your background?
Maggie Esson: My background is education and in particular environmental education. I've always believed in the power of education to inspire!
Mongabay: What drew you to work with Education Programs at a zoo?
| | |
| --- | --- |
| | Maggie Esson at Chester Zoo. Photo courtesy of Maggie Esson. |
Maggie Esson: It's the diverse audiences that zoos attract and the huge potential for outreach that attracts me. We have such brilliant and engaging resources to work with as educators—our living collections and the appeal of the live animal. This, and the increasing involvement of zoos in in situ (i.e on site) conservation, including community engagement of one sort or another. For my Masters I conducted a comparative study of the practices and outcomes of conservation education in Jersey, Mauritius and Madagascar. For my Doctorate I looked at the evolution of zoos as environmental education providers and the challenges of instilling behaviour change in our visitors.
Mongabay: Will you tell us about your program connecting British kids to what it's like to live with elephants in India?
Maggie Esson: Chester Zoo is located on the edge of one of the largest conurbations in Europe, with some pockets of urban deprivation. Asiatic elephants are a flagship species in the zoo and represent our in situ program in Assam, in Northern India, where we work with rural communities whose livelihoods are compromised by elephants damaging villages and destroying crops. In both locations we have active education programs in schools with children living in difficult situations. Parallels can be drawn between both sets of children, and for our children in Chester Zoo, this provided the opportunity for them to gain insight into another way of life and to empathize with children living in another country. Our elephant herd is a valuable education resource as we can discuss family life, herd compositions and relationships—another opportunity for children to draw parallels with their own lives and relationships, as well as learning about the cultural reverence elephants have in Assam, and the very real threat these revered animals pose to human life and livelihoods.
Mongabay: How did the children respond to this program?

UK students who participated in the elephant education program at Chester Zoo. Photo courtesy of: Maggie Esson.
Maggie Esson: The body of work the children produced was impressive and teachers and parents both reported that children were inspired to take the project in different directions within the literacy curriculum. Pre-zoo visit preparation in schools was thorough, and the keepers the children interviewed, all reported how impressed they were with the background work the children had done. Feedback from the children suggested they saw the keepers as role models and this type of social capital was an unexpected but welcome bonus from the project. Teachers reported that this topic had acted as a catalyst to encourage boys to read and write which was one of the objectives.
Mongabay: Is this a program that could be replicated at other zoos with other species?
Maggie Esson: I don't see why this program could not be replicated in other zoos. A requirement is a high profile species where an insitu link can be made and where keepers are knowledgeable and are able to pass on their knowledge in an exciting and inspiring way. Remember this project did not require special access to the animals themselves so we had no additional issues of animal welfare or health and safety to consider. Communicating the in situ project background information really needs an educator who has personal experience of running the in situ program themselves to be able to talk from first-hand experience.
Mongabay: Chester Zoo also runs a program on human-wildlife conflict in Assam, India. What are the components of this project?
Maggie Esson:
Understanding the factors that lead the elephant herds to raid villages and destroy crops. This involves recording and plotting elephant movements and collating this information in a GIS database. This helps us to look for patterns and possible triggers.
Working with local communities to mitigate against elephant incursion by setting up deterrents like electric fences or burning chili smoke and training villagers in alternative livelihoods.
Running public education events using talks and posters to help explain elephant behaviors and how to avoid incidents including the loss of human life.
Working with local schools to raise awareness of elephants' role in the ecosystem, to understand the needs of elephant herds and most importantly how to avoid an angry elephant.
Mongabay: How do we strive to make zoos fully educational experiences, both for children and adults?

Students in Assam who have participated in the Chester Zoo program. Esson in the back. Photo courtesy of: Maggie Esson.
Maggie Esson: We need to consider audience segmentation. In any zoo, we don't have just one audience 'the public.' That audience can and should be sub-divided according to motivation to visit and expectation. By understanding the major zoo audience segments, educators can plan a menu of different interventions that will appeal to different segments and different learning styles.
Mongabay: What can people do to help the Asian elephant?
Maggie Esson: In any country where there is trade in ivory—don't buy it. In our zoo this doesn't really apply. We have the usual adoption schemes for our elephant in the zoo and this is popular with some schools. We have the link "Act for Wildlife" which is the fundraising arm for our in situ project so schools can donate to that too. Other than this there are the generic messages about wherever anyone lives they can do something to help the environment.
Related articles
Forging zoos into global conservation centers, an interview with Cristian Samper, head of WCS
(03/25/2013) The Wildlife Conservation Society (WCS) is one of the world's leading environmental organizations. Founded in 1895 (originally as the New York Zoological Society), the WCS manages 200 million acres of wild places around the globe, with over 500 field conservation projects in 65 countries, and 200 scientists on staff. The WCS also runs five facilities in New York City: the Central Park Zoo, the New York Aquarium, Prospect Park and Queens Zoos, and the world renowned Bronx Zoo.
New global network bridges gap for primate conservation educators
(05/21/2013) Drawing from her personal experience as a primate educator and the challenges she saw others facing, Amy Clanin envisioned a network that would advance the field of primate conservation education by addressing three needs of educators: connections, resources, and services. It was this vision that led her to create the Primate Education Network (PEN). PEN is at the forefront of primate conservation education, providing a community and collaboration platform for primate educators.
New video game turns kids into conservationists
(02/28/2013) Count coral in the Chagos Archipelago, save amphibians from the deadly chytrid fungus, replant trees in the Atlantic Forest, and count predators and prey in the African Savannah—a new free online game by Wildscreen, dubbed Team WILD, allows young players to learn about science and conservation while moving fast-paced through different ecosystems. Wildscreen is a conservation charity devoted to using imagery to raise awareness and protect wildlife.
Innovative conservation: bandanas to promote new park in the Congo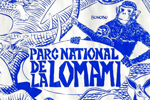 (07/16/2012) American artist, Roger Peet—a member of the art cooperative, Justseeds, and known for his print images of vanishing species—is headed off to the Democratic Republic of the Congo (DRC) to help survey a new protected area, Lomami National Park. With him, he'll be bringing 400 bandanas sporting beautifully-crafted images of the park's endangered fauna. Peet hopes the bandanas, which he'll be handing out freely to locals, will not only create support and awareness for the fledgling park, but also help local people recognize threatened species.
Educating the next generation of conservation leaders in Colombia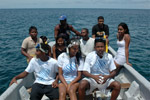 (05/14/2012) Colombia's northern departments of Cordoba and Bolivar are home to an abundance of coral reefs, estuaries, mangroves forests, and forests. Rich in both marine and terrestrial wildlife, local communities depend on the sea and land for survival, yet these ecosystems are imperiled by booming populations, overexploitation, and unsustainable management. Since 2007, an innovative education program in the region, the Guardians of Nature, has worked to teach local children about the ecology of the region, hoping to instill a conservation ethic that will aid both the present and the future.