The Kraft family (from left to right) Lauri, Jason, Jamie, Larry. Photo courtesy of the Kraft family.
The Kraft family—Larry, Lauri, Jamie (age 9), and Jason (age 7)—are on the trip of a lifetime, a round-the-world tour with an environmental focus. Currently in India, the family has already made their way through the Amazon, Vietnam, Costa Rica, Australia, and the Galapagos, among other wild places. Still left on their itinerary: Africa and the Arctic. But the trip isn't all fun and games, instead the Kraft's are using the year abroad to learn first hand about global environmental issues and solutions.
"[Lauri and I] are both very concerned about the environment and the world we leave our kids," Larry Kraft recently told mongabay.com. "The trajectory that the world is on, especially with climate change, will result in our kids, and eventually grandkids, living in a much less desirable world than we live in today. We decided to combine our passion for travel with our passion for the environment."
But the Krafts are not content to keep what they learn to themselves. The four are working hard to produce online educational content based on their experiences and discoveries to share with students back home in St. Louis Park, Minnesota, as well as tens-of-thousands around the world.
"We are partnered with a great non-profit organization called The Wilderness Classroom," Larry explained. "Dave and Amy Freeman, who run the organization, were actually just nominated as Adventurers of the Year by National Geographic for 2014. Their aim is to bring environmental education to classrooms by sharing the experiences they have on trips to interesting parts of the world."
In a recent interview with mongabay, the whole family talks about their favorite adventures to date, what they've learned about global environmental issues, and what makes them hopeful going forward.
AN INTERVIEW WITH LARRY, LAURI, JAMIE, and JASON KRAFT

Jamie and Lauri with a Galapagos giant tortoise. Photo courtesy of the Kraft family.
Mongabay: Will you tell us how the idea to take a family, educational trip around the world came about?
Larry Kraft: I started traveling quite early in life. My parents put me in the back of their 1966 Dodge Dart, and we drove around the U.S. camping for a summer when I was 7 years old. After finishing college, I spent a couple of months backpacking around Europe before starting my first permanent job. I thought this was the trip to end all trips. However, I met Michael Bresnahan, an Australian who was traveling around the world for a year. This floored me, and caused me to re-think what was possible. After working for 2 years, the company I was working for was having some difficulty and there were going to be layoffs. I asked to be included, and did my first around the world trip for a year in 1990/91. Then after Lauri and I got married in 1997, we spent 9 months backpacking around Central and South America. Since having kids, we've always said we've learned so much from our trips that we'd like to do it with our kids sometime. I had a great job that I had been at for over 10 years. It was time for a change, and this just turned out to be a good time to do it.
Mongabay: Why did you decide to focus on the environment for the trip?
Larry Kraft: We are both very concerned about the environment and the world we leave our kids. The trajectory that the world is on, especially with climate change, will result in our kids, and eventually grandkids, living in a much less desirable world than we live in today. We decided to combine our passion for travel with our passion for the environment. It is our hope that we'll help educate not only our own kids, but also other kids and families and cause them to take some action.
Mongabay: Will you tell us how lessons on climate change has and will fit into the trip?

A squirrel monkey crossing a blue rope monkey bridge, put up by Kids Saving The Rainforest, near Manuel Antonio National Park, Costa Rica. Photo courtesy of the Kraft family.
Larry Kraft: I attended a great training session for educators from the Will Steger Foundation this past summer, one of their Summer Institutes. We've been leveraging a number of educational tools I learned there, including several lessons from their climate change curriculum. So now our kids understand the basics of climate change, and while we continue to work it in to the experiences we have, sometimes the kids take it on their own. I'll give you two examples.
First, as we write this answer, we're on the coast of Western Australia. We've just spent time at the Ningaloo Reef, which is a fabulous reef for kids, because it is so accessible. It's a fringing reef, which means it's very close to shore, so close that in many places you can snorkel to it from the beach. In 2010/11, there was a pretty serious bleaching event that damaged parts of the reef due to elevated water temperatures. We met with Dr. Tom Holmes and Dr. Shaun Wilson, research scientists in the Marine Science Program for Australia's Department of Parks and Wildlife. We learned from them about the bleaching event, why and how corals bleach, and if the reef has recovered (in the bleaching areas, mostly it has not). There has been a lot more bleaching happening at coral reefs around the world, likely linked to climate change.
The second example is one of our kids taking it on their own. Our son Jason is a vegetarian. Initially this was because he just didn't like meat. Then he realized where meat comes from. He knew he liked animals, so he figured that if he didn't eat them, there would be more of them. I love his logic—it's so straightforward. Well, after our lessons on climate change, he understood that eating meat contributes to climate change, given the large amount of greenhouse gases created by raising animals, particularly cows. So while we were in Peru, he issued a challenge to us: to go without meat for a week. This is a bit more challenging in a country like Peru, where meat is a large part of the diet. So rather than going meatless there, we upped the ante, and we'll all go without meat for a month while we're in India (February/March this year).
Mongabay: You've been using your travels as a teaching tool for other children in the states and elsewhere can you tell us about this?
| | |
| --- | --- |
| | Pamela Nave of NatureKids with Jamie and Jason. Photo courtesy of the Kraft family. |
Larry Kraft: We are partnered with a great non-profit organization called The Wilderness Classroom. Dave and Amy Freeman, who run the organization, were actually just nominated as Adventurers of the Year by National Geographic for 2014. Their aim is to bring environmental education to classrooms by sharing the experiences they have on trips to interesting parts of the world. They've developed some great formats which we are using to create educational content for the estimated 85,000 kids that follow them, as well as several schools in the Minneapolis area (including our kids' home school, Peter Hobart Elementary in St. Louis Park). We create new content pretty much every week, and sometimes more frequently.
Mongabay: Most parents probably wouldn't consider taking two young kids on a trip to six continents for over a year. What made you decide to take the plunge?
Larry Kraft: Having traveled widely before, we just felt that it was an experience we wanted to have with our kids at some point in their lives. The education they are getting is just amazing. We can already see profound changes in them. The specific timing of our trip had a lot to do with it being the right time for me to make a job change.
Mongabay: For other families considering an education year around the world, what advice would you have?
Larry Kraft: Do it! But plan for it. And certainly put your own spin on it. The environmental focus was ours, but there could be many. Find an interest that excites you and your kids, and go with it. Involve your kids in the planning. And make sure to make heavy use of the Internet. We have created so many connections by searching the web, finding an interesting organization, and then sending them an email. Since we're traveling with our kids and trying to create educational opportunities, almost everyone responds.

Jamie and Jason with a group of high school students from Hanoi. Photo courtesy of the Kraft family.
We were in reasonably heavy duty planning mode for 6 months. This doesn't mean we planned all of the stops and places where going to stay. We do a lot of that as we go, a few weeks in advance. We've learned that you have to think about a trip like this quite differently from a vacation. On a vacation you're often constantly on the go, seeing things etc. But we need to build school time in to our schedule. And constantly traveling with kids, for longer than a week or two, just doesn't work. We try to spend about a week in any place that we go (and at least a month in any one country), so we have time to really explore and get the feel of a place. Absolutely build some downtime into your schedule. We've found that some of our most memorable experiences happen during these times. Just the other day we were in Cuc Phuong National Park in Vietnam. We stayed in a basic bungalow in the center of the park. We weren't on a tour, and there was no one else around. In the morning we were having school sitting outside the bungalow, when a group of Vietnamese high school students on a field trip from Hanoi passed by. Well, they saw us, and especially our kids, and came running over, saying hello, practicing English, and getting pictures with our kids. We had a wonderful interaction with them. That kind of thing would never happen on a packaged tour with no downtime.
Lastly, we're convinced that most of the barriers to doing something like this are mental. There are a lot of resources out there to help plan something like this (including us…we're happy to get inquiries from any families considering it; we've already spoken with several!)
Mongabay: At the end of this mega-trip what knowledge or lessons do you hope your kids will carry with them?
Larry and Lauri Kraft: It's so hard to boil it down, but here are a few:
1. That there are a lot of amazing people in the world doing amazing things for the environment.
2. That our kids—and anyone—can make a big difference in the world.
3. That we are all so incredibly connected with the environment, and we have to figure out a way to live in balance with it and each other.
4. That all of the people in the world don't live like we do in the U.S. We'd like our kids to be good global citizens: to learn about and have an appreciation for other cultures, and perhaps even find positive things from other cultures that we can incorporate into our own lives.
INTERVIEW WITH JASON AND JAMIE KRAFT

The Kraft family overlooking the Madre de Dios River, Manu Rainforest, Peru. Photo courtesy of the Kraft family.
Mongabay: Most kids from the U.S. have never been to a rainforest, let alone the Amazon. What were your impressions of the world's biggest rainforest?
Jamie Kraft: It was awesome and I loved seeing all of the animals, especially the Wooly Monkey, Andean Cock-of-the-Rock bird, and Oropendula birds and their nests. I loved, loved, loved climbing up vines!
Jason Kraft: It was fun. Lots of butterflies – I liked learning how to hold them from the people at the Manu Learning Center (part of CREES). I also liked going on hikes to see all the different animals. We helped CREES build a bio-garden for a local family, which was really fun. It is good to do this so people won't need to cut down trees from the rainforest.
Mongabay: What was your favorite place that you visited so far and why?
Jamie Kraft: I liked every place; I can't choose.
Jason Kraft: I do not know. Lots of people ask us that but we can't answer it.
Mongabay: Will you tell us about the Children's Eternal Rainforest? What made you decide to support this organization? And what can people do to help?
| | |
| --- | --- |
| | Scarlet macaws, Drake Bay, Costa Rica. Photo courtesy of the Kraft family. |
Jamie Kraft: It's a rainforest that was named after children, because in 1987 a classroom of children in Sweden heard the rainforest was shrinking and they decided to help. They got other classrooms involved in Sweden and raised over $100,000. Soon kids from over 40 other countries were helping to raise money.
We're getting involved because we really liked going there and they need money again. They are trying to build a corridor of rainforest down to the Pacific Ocean so animals can migrate in different seasons. Otherwise some animals might disappear from the rainforest.
Here are some ideas of how people can help raise money:
Selling Children's Eternal Rainforest t-shirts
Selling Costa Rican chocolates
Bake sales
Garage sales
Birthdays for Children's Eternal Rainforest (instead of getting a gift, asking people that come to your party to bring money for Children's Eternal Rainforest)
Collecting spare change
Two schools in Minneapolis are helping raise money, and we'd like to have more help too!
Larry Kraft: If there are people or classrooms that are interested, feel free to contact me ([email protected]) and I can help, especially with the t-shirts or Costa Rican chocolates. Money can be donated online at either the Children's Eternal Rainforest web page, or in the U.S. at an organization called Friends of the Rainforest – which raises money in the US for the CER.
Mongabay: How are kids in other countries different? How are they the same?
Jamie and Jason Kraft: Some speak different languages, but some don't. Australian kids speak English but not the same way that we do. Some kids have different color skin. But they are still kids. They go to school. They like to play.
Mongabay: You've seen rainforests, deserts, and islands. How well do you think we–meaning the adults in the world–are doing at protecting our environment?
| | |
| --- | --- |
| | Solar panel powering a reed hut on a reed island, Uros, Peru. Photo courtesy of the Kraft family. |
Jamie and Jason Kraft: Adults are not doing a good enough job. Because they aren't protecting secondary forests as well. Also adults aren't doing a good job on climate change. They're not asking governments to raise the price of gas.
There are some adults that are doing a good job. The people at the Children's Eternal Rainforest. Reynaldo and all of the other people we met in Manu are doing a great job. Reynaldo has a fish farm. He came up with the idea of bio-gardens. And he is using the poop from his toilet to create methane to cook with.
Mongabay: You still have a lot of traveling left. What places are you most excited to visit in your upcoming itinerary?
Jamie Kraft: India!!! Spain, Norway, The Arctic, wherever we're going to see lions, zebras, and other animals.
Jason Kraft: The Arctic, Norway, Africa.
WITH THE WHOLE FAMILY

Helping to build a bio-garden in the Manu rainforest. Photo courtesy of the Kraft family.
Mongabay: What is a favorite memory from the trip so far?
Larry Kraft:
Seeing my kids reaction to a sea lion playing with us while snorkeling in the Galapagos.
Sleeping in a rustic lodge in the Amazon rainforest – with no walls – and hearing the sounds of the rainforest all around
Watching Jamie & Jason become more environmentally conscious (haranguing grandparents to turn off lights and turn the heat lower, knowing more about some animals than we do)
Jamie Kraft:
Snorkeling in the Galapagos
Inca ruins
Children's Eternal Rainforest
Hotels with pools
Drake Bay
Jason Kraft:
Children's Eternal Rainforest
Monkey bridges and Titi monkeys (Manuel Antonio National Park)
Building turtle nest traps (to protect baby Olive Ridley Sea Turtles)
Lauri Kraft:
Watching our kids become even better friends—when your brother or sister is your playmate, you get pretty good at playing together.
Being in remote places at night where we can really see the stars
Having such quality family time—I know some parents may be a little put off by the idea of being together 24/7…but it's rare to have so much time together as an entire family unit. Although we certainly have our moments of tiredness, crankiness, etc., I think in the long run that having this kind of shared experience as a family is something that will always be really special to us.
Watching the kids soak things up and then bring them up later—you can see they're really incorporating things they learn (like the example Larry gave about them haranguing the grandparents about energy usage).
Mongabay: What environmental lessons have you learned to date?
| | |
| --- | --- |
| | Learning about counting butterflies in the Manu Rainforest with representatives of CREES. Photo courtesy of the Kraft family. |
Jamie and Jason Kraft:
Don't cut down trees
Too many people are coming to the Galapagos, not enough room and water
Gas isn't good for the environment
Mongabay: What have you seen that gives you hope when it comes to big environmental issues?
Larry and Lauri Kraft:
On climate change:
There are very few countries in the world where there is any debate about whether climate change is happening. People get it. When you explain it to kids they get it too. All we need is strong leadership to fix it.
We believe children can have a powerful voice on climate change. Not only can they understand it, but their straightforward "stop it now" perspective is spot on.
In many other countries you can see that people really understand climate change is a problem, and are working to do what they can about it—even something as simple as using CFLs or LEDs, which we saw all over Latin America, for example. Another issue is water conservation—in Western Australia, for example, there's profound awareness about water usage and scarcity.
In general, we've met some amazing people in all corners of the world that are doing fabulous things to preserve the environment:
Pamela Nave at NatureKids in Drake Bay, Costa Rica is trying to teach local kids English and environmental awareness, so they can profit from ecotourism.
Reynaldo Ochoa in the Manu rainforest in Peru is a hotbed of ideas; he's implementing them with CREES, including bio-gardens, agri-forestry, fish farms, and even using methane from his toilet as cooking fuel.
Jennifer Rice and Chip Braman, the monkey-crazy couple at Kids Saving The Rainforest in Costa Rica — at their 9 year old daughter's instigation, they built monkey bridges across roads near Manuel Antonio National Park in Costa Rica to reverse the dangerous drop in population of adorable Titi monkeys.
People at ENV (Education for Nature Vietnam), an organization that is educating the Vietnamese public, especially kids, to stop demand for products from critically endangered rhinos, tigers, and Asian bears.
These really are just a few examples; I could go on.
Related articles
Lao ecotourism project wins responsible travel award for innovation
(11/11/2013) An ecotourism project in a remote part of Laos has won the prestigious World Responsible Tourism Award for Best for Responsible Wildlife Experience. The Nam Nern Night Safari, an ecotour in Lao PDR's Nam Et-Phou Louey National Protected Area in Houaphan Province, was recognized by the World Travel Mart for its innovative approach to generating benefits for local communities.
Nature tours in Costa Rica: an economic alternative to palm oil?
(10/16/2013) Oil palm plantations have been rapidly expanding across the tropics for the better part of the past twenty years due to high returns from palm oil production. But palm oil isn't necessarily the most profitable form of land use in wildlife-rich areas, as one conservation entrepreneur is demonstrating in Costa Rica.David Lando Ramirez, a landowner in Sarapiqui, northeastern Costa Rica, has converted a small patch of oil palm into a thriving ecotourism business centered around people's love of the Central American nation's stunning diversity of birds.
Mammal-watching: one man's obsession to see the world's mammals
(10/16/2013) There are more than 5,000 different mammal species across the globe, but with this number being dwarfed by the 10,000 bird species, it is little wonder that bird-watching has become the most common wildlife watching hobby in the world. While there are thousands of websites dedicated to ornithology enthusiasts, with information detailing the best places to see particular species and how to find them, similar resources about mammals remain scarce.
The hidden Caribbean: sustainable tourism arrives in the Dominican Republic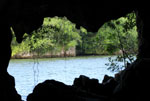 (07/18/2013) Finding true ecotourism companies isn't easy. While the tourism industry worldwide has latched onto the term 'ecotourism,' in many cases it's more propaganda than reality. Especially in heavily-touristed areas—like the Caribbean Islands—it's difficult to find efforts that are actually low impact, sustainable as possible, and educational. However, some companies are beginning to make headway in a region known for all-inclusive resorts and big cruises. One such company is the relatively young Explora! Ecotour in the Dominican Republic, run by passionate naturalists, Manny Jimenes and Olyenka Sang.
Luxury nature travel with a philanthropic twist
(05/23/2013) A hundred years ago, nature-oriented travel to places like tropical Africa and Asia was often associated with big game hunting. Today cameras have mostly replaced guns as nature-lovers travel to the far-reaches of the globe to see wildlife, experience rugged mountains, and explore remote beaches. But nature-based travel isn't necessarily ecotourism — there can be detrimental social and environmental impacts from tourism. While most people associate these problems with mass-market tourism, they can also result from low-volume, high-end travel that fails to respect local customs, supports abusive practices, or encourages wantonly wasteful resource consumption.
Why responsible tourism is the key to saving the mountain gorilla
(05/13/2013) The sunlight poured through the canopy, casting dappled shade over Makara, a large silverback mountain gorilla, as he cast his eyes around the forest clearing, checking on the members of his harem. A female gorilla reclined on a bank of dense vegetation of the most brilliant green, clutching her three day old infant close to her chest, and elsewhere, two juvenile gorillas played around a small tree, running rings around it until one crashed into the other and they rolled themselves into a roly-poly ball of jet black fluff that came to a halt a few meters in front of our delighted group.